Legal Notice & Information for Clients
Please note that the information contained on this page corresponds to the information obligation according to the Federal Law on Financial Services of June 15, 2018 (950.1 – FinSA, Articles 8 and 9) and the associated ordinance (950.11 – FinSA, Articles 6 to 15) of November 6, 2019. This document does not constitute a contract or an advertisement.
1 Federal Financial Services Act (FinSA)
The Swiss Financial Services Act (FinSA) came into effect on January 1, 2020 with the aim to strengthen investor protection and to define clear rules for providing trusted, accurate and transparent financial services. In this regard, clients are either classified as retail clients, professional clients or as institutional clients, each one having a different level of investor protection.
The aim of the law is to provide investors with comprehensive information in the provision of financial services and thus to strengthen investor protection.
Woodman, being a financial service provider such as portfolio management, investment advice or execution of securities transactions, is required to comply with various rules of conduct, in particular with regard to information, organization, documentation and advertising.
2 Client Classification and Client Protection
According to the classification introduced by FinSA, clients can be, retail clients, professional clients, or institutional clients.
This classification provides enhanced legal protection compared to the pre-existing regulation and has as criteria the individual financial circumstances of a person, the level of knowledge, experience and financial expertise, the size of the company, or professional treasury.
In some cases, if certain criteria are met, the client can apply to be reclassified by taking advantage of the opt-in or opt-out options. For example, a wealthy private client may declare that they wish to be treated as a professional client and therefore wish to benefit from less protection (opting-out). An institutional client may declare that they want to be considered a professional client and therefore want to benefit from a higher level of protection (opting-in).
The change in classification, subject to the conditions dictated by law, may allow access to different financial services and products.
To do so, or to receive more information on this topic, please contact your relationship manager.
As of January 2022, clients will benefit in particular from increased transparency throughout the investment process:
Key Information Documents (KIDs): Retail clients will receive standardized product information for certain financial investments, including details of risks and costs.
Advisory minutes: After every advisory meeting with the Relationship Manager, Retail clients will automatically receive the minutes documenting the suitability and the reasoning of the advice given. Professional clients can receive the minutes upon request.
Reports: Retail and Professional clients will receive annual reports on portfolio performance, including service costs.
You can find more information about classification in the table below showing the effects of the client classification: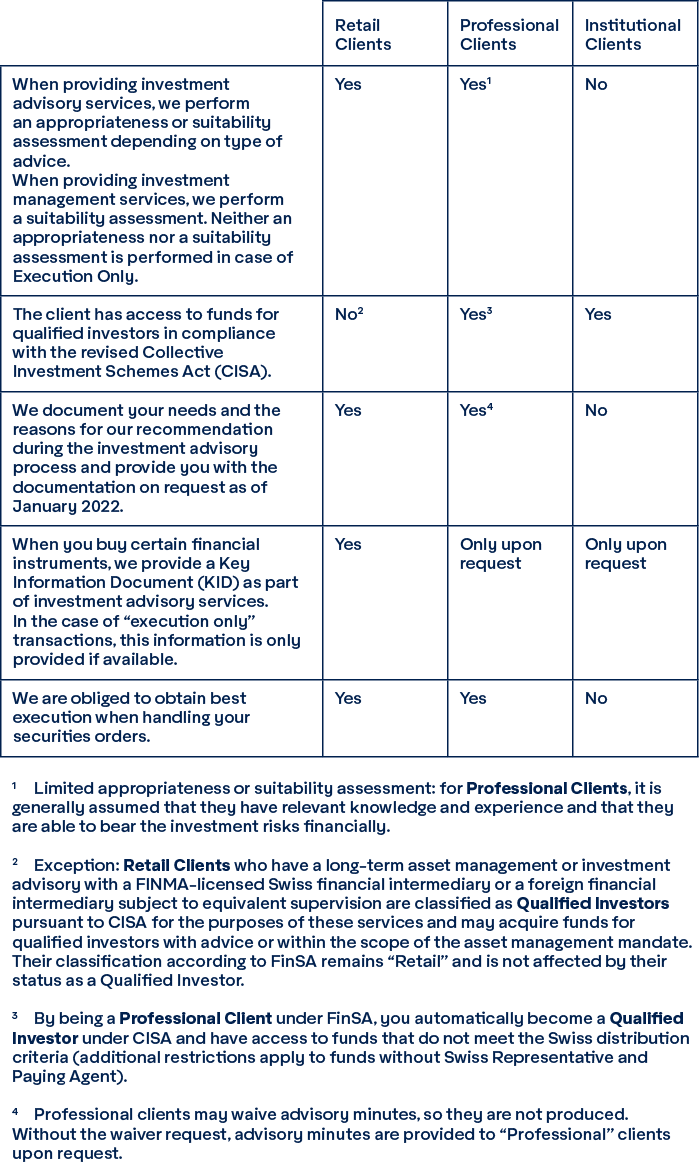 3 Information about Woodman Asset Management AG
Founded in 2010, Woodman Asset Management AG ("Woodman" or the "Company") is a limited liability company incorporated under Swiss law, headquartered in Zug, Switzerland. Woodman provides asset management services for clients primarily located in Switzerland and Europe.
The company is authorised and regulated by the Swiss Financial Market Authority (FINMA) as an Asset Manager for collective investment schemes.
The contact information is the following:
Woodman Asset Management AG
Poststrasse 26, 6300 Zug, Switzerland
+41 41 725 04 04
info@woodman.ch
Commercial Register (UID): CHE-239.257.048
LEI: 549300LYWWMYVKM1VN7
4 Risk Information
Any transaction related to financial instruments comes with opportunities and risks. It is therefore important to understand these risks before investing in a financial service.
The brochure "Risks Involved in Trading Financial Instruments" contains general information about typical financial services and the features and risks of financial instruments. Familiarize yourself with this information before signing a contract and contact your client advisor if you have any questions.
The risk brochure can be found here:
Risk brochure "Risks Involved in Trading Financial Instruments"
You can obtain a physical copy of the brochure from your relationship manager.
5 Conflicts of Interests
Woodman takes necessary steps to identify and avoid conflicts of interest in its business activities and to protect investors from disadvantage. The goal is to protect its reputation as a collective asset manager with integrity and fairness, to comply with regulatory requirements, and to maintain the trust of clients and business partners.
Woodman has taken appropriate steps to prevent and/or manage the occurrence of conflicts of interest and the disclosure of such conflicts when required under applicable law. Woodman ensures that its employees are trained to be able to identify and manage situations where a conflict of interest exists and requires them to take the necessary steps to identify and manage such conflicts. Woodman may also, at its discretion, refuse to act in such circumstances. If, despite these measures, the possibility of disadvantages for the client cannot be ruled out, it shall be the duty of Woodman to inform the client accordingly.
6 Ombudsman
Should you have any concerns with Woodman's services or would like to submit a complaint, please get in touch with your contact person/relationship manager at Woodman. Alternatively, contact our Legal & Compliance department. We will do our best to find an amicable solution.
If you are not happy with the solution to your complaint, you can contact the Ombudsman with whom Woodman is affiliated. The Ombudsman is a neutral information and mediation agency, experienced in dealing with clients' complaints against financial service providers in Switzerland. The Ombudsman generally only becomes active after receiving a written request for mediation from a client or financial services provider. The mediation process is free of charge for clients.
Contact information Ombudsman to which Woodman is affiliated:
OFS Ombud Finance Switzerland
16 Boulevard des Tranchées
1206 Geneva
https://ombudfinance.ch/
7 Changes to this Legal Notice & Client Information
We keep our Legal Notice and Client Information under regular review. From time to time we may update this Legal Notice and Client Information, and when we do we will publish the changes on our website.
Last updated in January 2022.